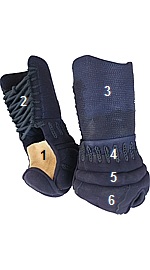 KOTE
1.Kote Tenouchi (palm leather) 2.Kote Himo (laces) 3. Kote-buton (Kote target area) 4.Tsutsu (wrist bending part) 5.Kera/Namako (chambers) 6.Kote-gashira (fist)
Kote will protect your hand and arm from hits. Kote is copy of historical hand armor used in Japan.
1.Kote Tenouchi - palm leather. Palm can be artificial leather, cow leather or deer leather. Yellow color is artificial, brownyellow cow and white deer. There are high-tech punctured Kote palms which breath more but they are not as durable as solid real leather.
2.Kote Himo - laces. You should hide the extra laces inside the lace holes and between lace itself. Dont let the lace go into your Kote cause it might damage the Kote Tenouchi. Also hanging kote laces are not allowed during competition.
3.Kote Bu/Buton has stiching between interval. It is measured by mm in machine mades or bu in hand mades Kotes. The more there is stiching the more durable is the Kote Bu. So the smaller number is the better giving smaller interval between stiching. There is more work in 3mm stiching than 6mm stiching so the price is of course higher in 3mm. It also makes it harder against hits. More important is the padding inside Kote for the hardness. Kote Bu length is different for big sizes to cover longer arms. Dont take too short Kote Bu so you wont have extra hits to your arm. There are many muscles in hand and you should protect them instead of giving smaller target to hit.
4.Kote Tsutsu - wrist area. Kte has area which will make it to bend along with your wrist. After hand you have a line in wirst and it should be cetered with Tsutsu. You can make Tsutsu more flexible by turning the Kote Gashira around when your Kote is new.
5.Kote Namako / Kera - The chambers. Kote Namako protects your hand but gives the flexibility for wrist. Inside namako is padding and usually it is deer hair, but can be foam. Deer hair is valued allowing your kote to breath. Your kote might have 1 or 2 Namako - the more the more flexible is your Kote.
6.Kote-gashira - the fist. Covers the fingers and has to be in one part only in kendo to avoid injuries. In Naginata there is index and middle finger separately and small and ring finger together. Padding is same than in Namako. Surface can be canvas which breaths well and is fast to dry so it can be washed. Artificial leather (also called Korean leather) is economical and looks like almost leather. High quality indigo dyed cow leather is often used for optimum durability. Some children Kote can have white or black artificial leather which is economical and durable enough for children.
Care. You should dry Kote after every use and you should lay them on surface palm streight. Soften the palm leather before use and to remove foldings and your Kote will last longer without holes. Palm can be replaced.